Tradition & technology
Discover how our production processes enable us to manufacture some of the world's favourite chewing gums, candies and lollipops.
Chewing gum
The chewing gum production process is fully automated, with sophisticated computerised equipment ensuring exact recipes and high standards every time.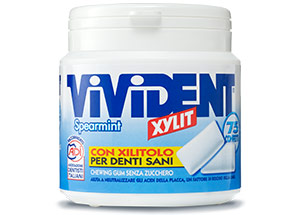 We add gum base – the chewy part of the gum – to a heated mixer, along with other ingredients including sweeteners and flavours. The mix thickens like a dough. Then, we slowly add functional ingredients (when required) like fluoride and baking soda.
The mix passes through extruders – machines that thin out, smooth and shape the gum – to make a series of regular sheets.
The extruded gum is cut into long thin strips or pellets. It's then cooled in a temperature-controlled room until it reaches a stable consistency where it won't stick.
We coat and flavour the gum pellets, balls or dragées to form a coloured crunchy shell. Next, we spray the gum with syrup, sweeteners and colourings. Finally, we control the drying process by precisely regulating temperature and humidity levels.
High-speed machines wrap and pack the gum, ensuring that the product is presented well and that it is fresh when consumers open the pack. The most widely used packs are flip-top boxes, sticks, wallet-shaped packs and bottles.
Candies
The technology in modern candy manufacturing is extremely sophisticated, using highly automated, computer-controlled machines integrated with sophisticated electronics and programmable controllers.
The production processes vary depending on the type of candy. The following process describes the production of high-boiled, hard candies, like Alpenliebe.
We dissolve solid ingredients, such as sugar together with glucose syrup in water. They are then automatically weighed and blended in electronically-controlled mixing units with other ingredients like butter, cream and condensed milk.
The basic blend passes through a cooking stage, where most of the water is removed. All cookers work under vacuum in order to preserve the freshness of the ingredients. Normally, high-boiled candies have 2-3% residual moisture.
The candy mixture undergoes either a depositing or die-forming process so that it can be cooled and shaped into the desired form. Depositing yields the smoothest of candies whilst die-forming is better for producing filled candies.
For depositing (e.g. for Alpenliebe), the cooked mixture is deposited into Teflon-coated metal moulds which have an extensible pin at the base to eject the candies when they have cooled and solidified. At this stage, we can create various shape and colour combinations.
For die-forming (e.g. for Golia) we partially cool the cooked mixture until it has a plastic texture. It's then shaped into a continuous rope which passes into a die set forming machine. This cuts the rope into pieces and shapes them by means of forming pins. The formed candies are then rapidly cooled.
Cooled candies are immediately wrapped in different packs, namely single piece flow-packs or double twist, sticks and flip-top boxes. Packaging lines perform at very high speeds and final weight is electronically controlled.
The lollipops
Our Chupa Chups lollipop remains essentially the same since it was created in 1958. Any changes focus on quality ingredients and the latest technological developments.
The manufacturing process has evolved over the years to meet changing consumer tastes: pioneering the use of milk, soft chocolate filling and real fruit pulp as well as developing the placement of a candy on a stick.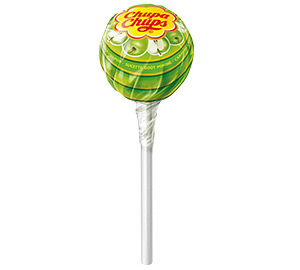 We mix carefully controlled quantities of sugar, glucose syrup and powdered milk (for creamy lollipops) in a tank with water. The mixture goes through a heating coil, where the sugar dissolves. The sweet syrup is then filtered to remove any tiny impurities.
The filtered syrup is pumped into a heated coil cooker to evaporate most of the water – computers control the steam pressure and temperature. The remaining water is removed in a vacuum chamber, leaving a hot, sticky sugar mass.
We then add colours, flavours, citric acid and cocoa paste (for chocolate-flavoured lollipops) to obtain a candy mass with the desired taste and colour.
The hot sweet mass is placed on a refrigerated kneading table, where it is kneaded, levelled and given time to cool down. It then goes through a batch roller and into a rob-sizer that shapes it into strips.
The strip passes into the die-forming or moulding machine, where the round mass is made under pressure and the stick inserted. The moulded lollipop then passes through a cooling tunnel until it reaches room temperature. We now have a hard, finished lollipop.
High-speed wrapping machines put the final wrap on the lollipop before it is packed in a display wheel, tin or display rack.