People
Our people are our most precious resource.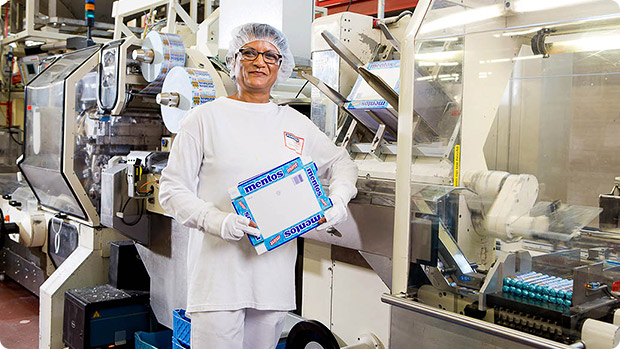 As a responsible player in the industry, it goes without saying that we apply the highest standards to managing our most precious resource: the some 18,000 dedicated people who make up Perfetti Van Melle.
Working environment
Our first priority is to provide our employees with a safe and healthy working environment. Our ambition is to be fully compliant with local and international legislation and industry standards.
What's more, we want to give our employees meaningful jobs in which they can contribute, grow and develop to the full, all in an inspiring environment where ambition, performance, support, trust and collaboration reign supreme.
Along with our performance management and remuneration policies and processes, we strongly support teamwork as a way of reaching and delivering an inspiring and ambitious set of common goals. We recognise and reward competencies and performance.
Opportunities
We provide plenty of opportunities for our employees to develop their competencies and careers by giving them constructive feedback and coaching, involving them in projects and by offering specific development programmes.
Diversity
Last but not least, we offer our employees a truly diverse and inclusive working environment. At all our companies, we value diversity and do not tolerate discrimination, unfair or unequal treatment in any way, shape or form.