Quality & food safety
We're committed to meeting the highest standards of quality and food safety.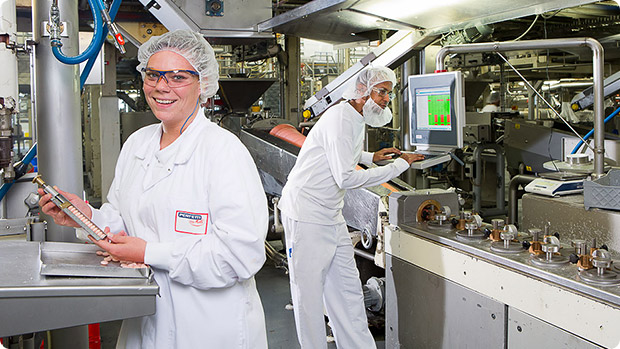 A primary goal of our corporate responsibility is to ensure that our consumers are provided with flawless, high-quality and safe products. Perfetti Van Melle has a reputation for consistently high-quality manufacturing, in compliance with all defined safety and regulatory standards.
Our manufacturing units have adopted a quality management system, and we strictly follow product quality and safety results.
We believe in global standards and use the same high standards wherever we operate, even if less-stringent local regulations exist.
Most of our manufacturing units have already achieved the ISO 9001, ISO 2200, HACCP, BRC Food, GMP Food, FSSC and IFS certificates. These certifications attest to our constant improvement attitude and our strong commitment to maintaining high quality levels in our manufacturing, research and development, and sales operations.
Some of our plants have also obtained Halal and/or Kosher certification, to meet Islamic and/or Jewish dietary requirements.
We are very focused on food safety and are strongly engaged in keeping pace with scientific and technological developments that affect the raw materials and ingredients we use in our products.
Not only do we also adopt the most stringent food regulations but, whenever possible, we replace artificial colourings and flavourings with natural equivalents, as in our Fruittella range. We also use GMO-free ingredients (except in our American factories) and provide allergen information on our labelling (for example, if they are a source of gluten) to make it easier for people with food allergies to identify ingredients they need to avoid.
This table sets out the certifications held by each of our manufacturing units.
Country
Factory
Certification
PVM ITALY
Gelco
ISO 9001
 
ISO 14001
 
BRC
 
IFS
 
Regolamento Emas
La Giulia
ISO 9001
 
IFS
 
BRC
PVM Lainate
ISO 9001
 
ISO 22000
 
ISO 14001
Gum Base
ISO 9001
 
HACCP
 
CAC/RCP 1-1969
 
BRC Food
 
GMP Food - 21 CFR – Part 110
PVM INDONESIA
 
ISO 9001:2008
 
22000:2005
 
Halal
 
HAS (Halal Assurance System)
 
Halal Product
 
Hygiene & Sanitary by NADFCRI
PVM MEXICO
 
FSSC 22000
 
ISO 14001
PVM VIETNAM
Factory
ISO 9001:2008
 
ISO 22000:2005
 
Food Hygiene Safety
Some export products
Halal certificates
 
Halal certificates
PVM BRASIL
 
ISO 9001
PVM BENELUX
Tab tech Sittard
ISO 26000
 
FSSC 22000
 
ISO9001:2008
 
ISO14001
Frisk Leuven
ISO 26000
 
SA 8000
 
FSSC 22000
 
ISO 14001
 
ISO 9001:2008
PVM Weert
ISO 26000
 
BRC
 
FSSC 22000
 
IFS
 
ISO 9001:2008
 
ISO 14001
 
SA 8000
PVM Breda
ISO 26000
 
BRC
 
FSSC 22000
 
IFS
 
ISO 9001:2008
 
ISO 14001
 
SA 8000
Look-O-Look
ISO 26000
 
BRC
 
FSSC 22000
 
IFS
 
ISO 9001:2008
 
ISO14001
 
SA 8000
PVM RUSSIA
ISTRA
ISO 9001
 
ISO 22000
 
Halal certificates
ST PETERSBURG
ISO 9001
 
ISO 22000
 
Halal certificates
PVM INDIA
Manesar
FSSC 22000 Confectionery
 
FSSC 22000 Snacks
 
OSHAS 18001 ISO14001/SGS
Rudrapur
FSSC 22000 /SGS
 
OSHAS 18001/SGS
 
ISO 14001/SGS
Chennai
FSSC 22000/SGS
 
OSHAS 18001 /SGS
 
ISO 14001 /SGS
PVM SRI LANKA
 
ISO 22000/SGS
PVM BANGLADESH
 
No certification implemented to date
PVM USA
ERLANGER
ISO 14001:2004
 
BRC
 
Kosher
PVMCHINA
SHANGHAI 1
ISO 9001
 
ISO 22000
 
QS (food safety)*
SHANGHAI 2
ISO 9001
 
QS
 
ISO 22000
 
Export License for Food Manufacturer** Manufacturer (food safety)
 
Halal Certificate
SHENZHEN
ISO 9001
 
QS
 
ISO 22000
 
Export License for Food Manufacturer
 
Halal
 
ISO 14001
PVM SPAIN
Dulcelandia (Smint tabs)
ISO 9001:2008
 
ISO 22000:2005
 
Halal
Can Serra (CC Lolli)
ISO 22000:2005
PVM TURKEY
 
ISO 9001
 
ISO 22000
 
ISO 14001
 
OHSAS 18001
 
 
GUM BASE SHANGHAI
QUING PU
ISO 9001
ISO 22000
MINHANG
ISO 9001
ISO 22000